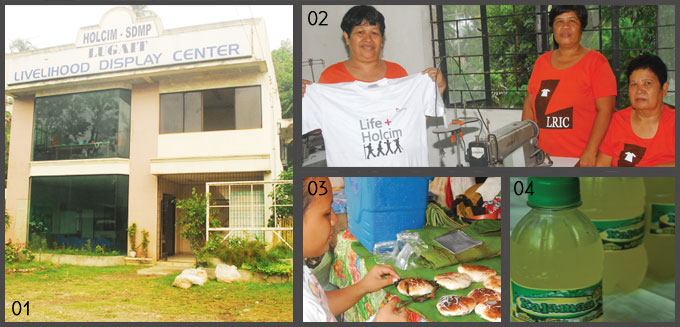 LIVELIHOOD
Existing livelihood programs include projects on t-shirt making, calamansi juice processing, rag making, Nito weaving (placemats, fruit trays, baskets, etc.), Flecon bag making, and bibingka making. The calamansi juice, t-shirt and bibingka projects are located on a lot with a fairly modern building donated by Holcim to the community.
Sweet Taste of Self-Sufficiency
Calamansi juice is never as good as the one served at the Lugait plant, especially when one learns the success story behind the squeeze.
The story begins much like other livelihood programs initiated by companies for their host communities. But what makes it worth telling is how this program has transformed homemakers into confident entrepreneurs who now run a sustainable, income-generating business.
Back in 2005, the Food Processing Committee of the Lugait Rural Improvement Club – an organization that Holcim had helped form – was doing an after-action review of its livelihood project. The 18 women who were involved in the project realized that chorizo and frozen bangus were not the way to go in their market. These
were women whose husbands were tricycle drivers, carpenters or without jobs, and they needed a livelihood source to help augment
their family income.
Holcim had tapped the Department of Agriculture as project partner and, in that meeting, the department's representative
suggested that the group consider calamansi juice processing. He explained that the women could easily skill up for the project and costs would be minimal.
The women agreed, and Holcim moved quickly to train them in juice processing all the way to packaging. They were also provided with seed fund to cover the ingredients, packaging, and basic equipment.  Then, we identified a farm that could supply calamansi at farm gate price.  Soon enough, our training and livelihood center became a "factory."  And so began the daily grind of squeezing, mixing, bottling, and labeling. All this was done manually, without preservatives or
even a juice extractor. A small refrigerator served to store the initial stocks.  As simple as it was, everything was done under extreme sanitary conditions.
In the first two years, the bottles sold in trickles. One of the first satisfied customers was the Holcim Lugait plant canteen concessionaire, who was pleasantly surprised to discover that the juice could keep fresh for up to two weeks without refrigeration.
Continuous training in marketing skills gave the women courage and confidence to go out and bring in more orders. Soon enough, they found themselves working longer to meet demand of 100 bottles and more.  Word spread and the women had to add eight more members to help meet the increasing demand.  Today, their
customers span big industrial companies, small business and residents.  Orders are now being taken outside of their fence, from groceries and companies in Iligan City and Misamis Oriental.
Since they started commercial productions in 2008, the women have produced more than 100,000 bottles, giving them enough income to put food on their table three times a day and help send their children to school. Last year, the women were able to save up enough money to buy a new chiller to add to the two units earlier
given by Holcim.  They soon will hire an external auditor to ensure that their financial records are professionally maintained.
Holcim fully turned over the project in 2010, completing the women's journey from homemakers to professional entrepreneurs.  That they are able to earn a good income gives them satisfaction. That they can keep this business sustainable gives them immense pride. (Source)
Website:
no page found
Facebook:
no page found
Email:
no email found
Landline:
no number found
Mobile:
no number found
City/Municipal:
Lugait
Barangay:
Poblacion
Address:
KML File:
(use in Google Earth/Map Applications)
The Golden Route:
4a