The Golden Route (Intro)
You can also choose the South/Central Route.
The South Route to Jagna via Valencia: – Total 64 km to Jagna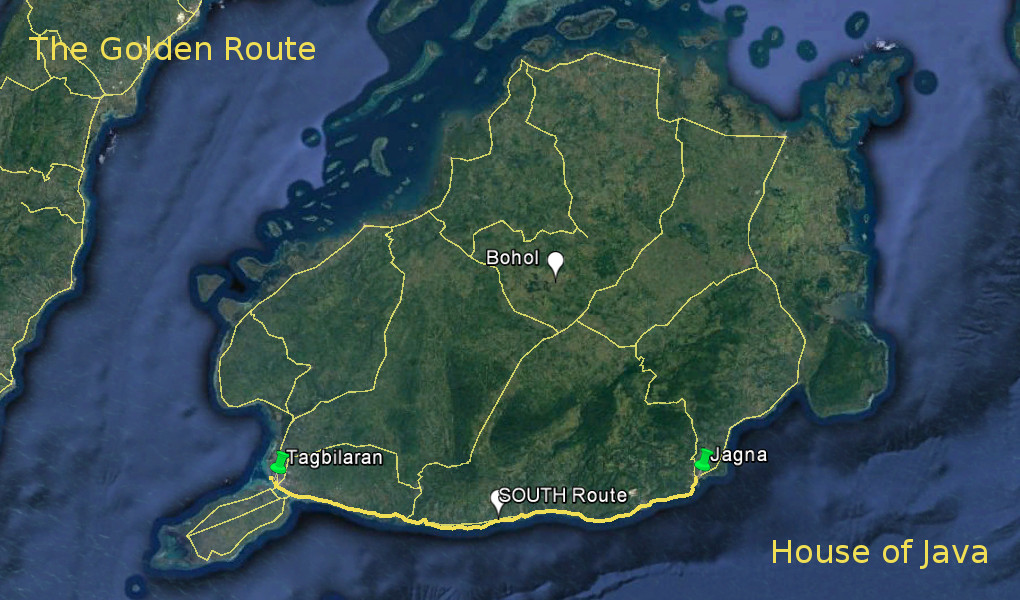 What to see following the The South Route:
1. Aproniana Souvenir Shop, Baclayon
2. Baclayon Church, Baclayon
3. Bohol Python, Alberquerque Zoo*
4. Loay River Firefly Cruise*
5. Loay Ironsmith Tour Experience, Loay
6. Himontagon Hills, Loay
7. River Cruise and Floating Restaurant, Loay*
8. Badiang Peak, Dimiao
9. Pahangog Twin Falls Caverns, Dimiao
11. Dimiao Twin Falls, Dimiao
12. Badiang Spring Resort, Valencia
13. Roxas Park, Garcia Hernandez
14. Tambuko Cave and Lagoon, Garcia Hernandez
15. Eva Cave in Odiong, Jagna
18. Luinab Rice Terraces, Jagna
19. Kinahugan Falls, Cabungaan, Jagna
20. Can-uba Beach, Jagna
21. Cantuyoc Cave, Jagna
22. Jagna Calamay Industry Tour*
From Jagna, the ferry will bring you to the next leg of The Golden Route.
Save
Save