Jasaan was named by a Spanish missionary who chanced upon a native sharpening his bolo in Sapong Spring in what is now called Kota, Aplaya, The missionary asked for the name of the place, however, the native replied "Ag-hasaa" meaning " I am sharpening my bolo". The missionary, thought that he was answered correctly, called the place "Ag – hasaa". But finding it difficult for him to pronounce the word, and called it "Hasaan" instead. Then it was changed to "Jasaan".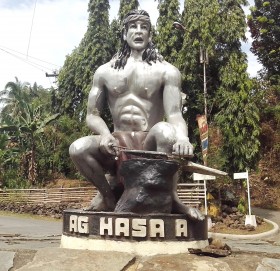 "Ag-hasa a" meaning " I am sharpening my bolo"
See also "Ag Hasa a" Statue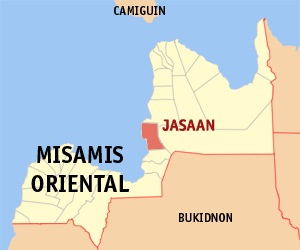 In 1830, the mission of Jasaan was established separately from Cagayan de Oro, where its authority and evangelization reached as far as the towns of Sumilao, Linabo and Malitbog in the province of Bukidnon.
The center of civilization of the new parish and its first Church was at "Daanglungsod," which is now the Aplaya, Jasaan, where an old kota (watchtower) still exists. This kota, however, has been moved a few meters from where it originally stood to allow for the construction of the national highway in the 1970s.
Website: Jasaan
Landline: (08822) 760-076
Mobile:
Municipal: Jasaan
Barangays: 15
Address: Pres. Quirino St., Upper Jasaan
Email: jasaanofficial2015@gmail.com
Opening Hours: 8:00 AM to 5:00 PM from Monday to Friday
Save