+100 Hotels in Cagayan de Oro City

If you already have a name on a Hotel, click on the Hotel Name, in the List below, and it brings you to Trivago where you get the best deals from the most popular Booking-sites.
If you like to search by Location, you can do that by click on
Go to Map on any Trivago page.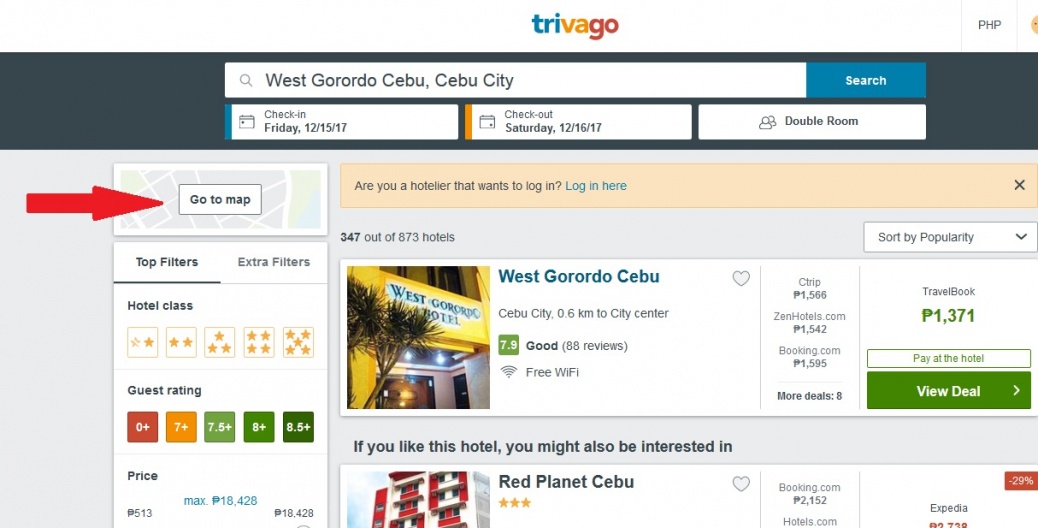 In the List below, you also find links to Web sites and/or Facebook pages, if any.
(GREEN – less than 250m from Limketkai Center)
1. House of Java (Website/Facebook) Sto. Nino,
2. Limketkai Luxe Hotel (Website/Facebook) Limketkai Center
3. Mallberry Suites (Facebook) Florentino Street
(LIGHT BLUE – less than 500m from Limketkai Center)
1. Bonair Inn – Osmena St.
2. Discovery Hotel (Facebook) Florentino Street
3. Metro Hotel (Facebook) Capt. Roa Extension
4. Pearlmont Inn (Website) Limketkai Drive,
5. Red Planet Hotel (Website/Facebook) C M Recto Ave.
6. Travelers Pod (Website/Facebook) Ground floor, Gateway Tower LKK,
(DARK BLUE – less than 1 km from Limketkai Center)
1. Amarea Travel Lodge – Aguinaldo Street
2. BudgeTel (Website/Facebook) Corrales Extension
3. Chananthon Bed and Breakfast (Facebook) CM Recto Avenue
4. De Luxe Hotel (Website) Capt. Vicente Roa St.
5. D' Morvie Suites C M Recto Ave.
6. Emerald Suites (Facebook) Jose Agudo St.
7. Fem's Vines Pension Aguinaldo corner Yacapin Streets
8. Galyx Hotel (Facebook) Capt. Vicente Roa St.
9. Goodnews Travellers Inn (Facebook) Capt.Vicente Roa St.
10. GV Hotel (Website/Facebook) Corrales Extension
11. Grace Residence Hall (Website/Facebook) 11th-30th Street, Nazareth
12. Hotel Conchita (Website/Facebook) Guillermo-Yacapin Extension
13. Hotel Sogo (Website) C M Recto Ave.
14. Maxandrea Hotel (Website) J. R. Borja-Aguinaldo Sts.
15. Rich Manor Pension House (Facebook) Corrales Ave.
16. Seda Centrio Hotel (Website) Centrio, Corrales Ave.
17. Southwinds Hotel Capt. Vicente Roa Ext.
18. Willshire Inn Aguinaldo Street
19. WinMin Transient Inn Agora Complex, AgoraTerminal
20. 1A Express Hotel CM Recto Avenue
  
(RED – less than 2 km from Limketkai Center)

1. Casa Azucena Pabayo Gaerlan St
2. Casa Crystalla (Facebook) Pabayo-Chaves Sts.
3. Casa Isabella (Facebook) Pabayo corner Cruz Taal Streets
4. CDO Hotel Xentro Corrales Avenue
5. Demiren Hotel (Facebook) Tiano-Macahambus Sts.
6. D' Morvie Suites Yacapin Street
7. Dream World Pension  Corrales Extension
8. Dynasty Court Hotel (Website) Tiano-Hayes Sts.
9. El Reva Suites (Facebook) Corrales Extension
10. Estrella Hotel Julio Pacana St.
11. Executive Pension Mabini Street
12. Fort Santiago (Facebook) 2nd-19th Streets, Nazareth
13. GC Suites (Facebook) Hayes. Street
14. Golden Friendship Inn (Facebook) Tiano-Kalambaguhan Sts.
15. Golden Stallion Suites 21st 27th Street, Nazareth
16. Grand City Hotel (Website/Facebook) Velez-Chaves Sts.
17. G Suites – Yacapin Street
18. Hotel Ramon T. Neri-Burgos Sts.
19. King William's Inn – Burgos St.
20. Kyross Inn – Mabini St.
21. Loft Inn (Website/Facebook) JR Borja corner A. Velez Streets
22. Mardale Pension (Facebook) Pabayo corner Gaerlan Streets
23. Marianne Suites (Facebook) Tiano Bros. cor. Luna Sts.
24. Marigold Hotel (Facebook) A. Velez corner Luna Streets
25. MASS-SPECC Hostel – Tiano Bros. St.
26. Natures Pensione (Website) Chaves St.
27. New Dawn Pensionne (Website/Facebook) Macahambus cor. A. Velez St.
28. New Dawn Plus Apolinar Velez corner Macahambus street
29. Olive Suites (Facebook) Mabini Street
30. Oro Capital Inn National Highway, Gusa
31. Park View Hotel (Facebook) T. Neri-Capistrano Sts.
32. Philtown Hotel (Website) Velez-Macahambus Sts.
33. Plaza Star Business Hotel 3/F Divisoria Arcade, RN Abejuela Sts.
34. Red Court Inn  Bolonsiri Junction
35. Red Palm Inn Gen. Capistrano Street
36. Saint Nicolas Inn Lt. Guillermo corner A.S. Hayes Street
37. The Pacifico Boutique Hotel (Facebook) Don A Velez St., cor Fernandez St
38. The Urban Pod Corrales Avenue
39. Victoria Suites (Facebook) T. Neri Street
40. VIP Hotel (Website) A. Velez-J. R. Borja Sts.
41. Wills Place A. Velez Street
42. YMCA Hostel –Julio Pacana Street
43. Yumi Pension House Tomas Saco corner 15th Streets, Nazareth
West of CdO: (YELLOW – more than 2 km from Limketkai Center)
1. Cagayan River View Inn (Facebook) Vamenta Blvd., Carmen
2. City Lodge Villarin Street, Carmen
3. Country Village Hotel (Facebook) Villarin St., Carmen
4. De Oro Sagatech Hotel & Resort Zone 7 (near LTO), Bulua
5. DDD Habitat Pension House (Website/Facebook) JV Seriña/Vamenta Blvd.
6. High Time (Facebook) CdO-Iligan Hiway, Kauswagan
7. Kingfield Express Inn (Facebook) CdO-Iligan Hiway, Kauswagan
8. Miami Inn (Website/Facebook) Vamenta Blvd.
9. Middleton Apartelle (Website) Lirio Extension, Carmen
10. N Hotel (Website/Facebook) CdO-Iligan Hiway, Kauswagan
11. Pryce Plaza Hotel (Website) Carmen Hill – CLOSED
12. Queensland Hotel (Facebook) CdO-Iligan Hiway, Kauswagan
13. The Resonance Inn CdO-Iligan Hiway, Kauswagan
14. Westin Tourist Inn Vamenta Blvd, Carmen
East of CdO: (YELLOW – more than 2 km from Limketkai Center)

1. Chali Beach Resort (Website/Facebook) Old Cugman Road, Cugman
2. Coconut Bay Resort CdO-Butuan Hiway, Baloy, Tablon
3. Gardens of Malasag Eco Tourism Village – Malasag Hill
4. Harbor Lights Hotel Old Gusa Road, Gusa
5. Marco Hotel Alwana Busi. Park, Cugman
6. Mountain Suites Buiss. Apartelle (Facebook) Kimwa Comp, Tablon
7. The Malasag House (Website/Facebook) Malasag, Cugman
South of CdO: (YELLOW – more than 2 km from Limketkai Center)
1. Golden Pension House (Website) Golden Glow North, SM Bypass Road
2. Hotel Koresco (Facebook) Pueblo de Oro Golf Estates, Lumbia
3. Kingston Lodge (Website/Facebook) Masterson Ave., Lumbia
4. Prawn House Restaurant and Suites Pacific St,
5. Ridge View Chalets (Website) Xavier Estates and Country Club
6. Stonestown Suites Mastersons Avenue, Lumbia
7. Sunshine Chr. Guest House (Facebook) Mabulay Compound
8. Uptown Condotel (Website/Facebook) Masterson Ave., Lumbia
9. Ultra Winds Mountain Resort Convention Center Access Road
Bukidnon:
Dahilayan Forest Park Dahilayan, Bukidnon
Not open yet or Under Construction – U/C
Willshire Inn 2 – Mortola St. [U/C-stopped]
Riviera Hotel – Paseo del Rio [U/C-stopped]
Unnamed Hotel (formerly Casa Ofelia) – Tiano cor. Kalambaguhan St. [U/C-stopped]
Save
Save