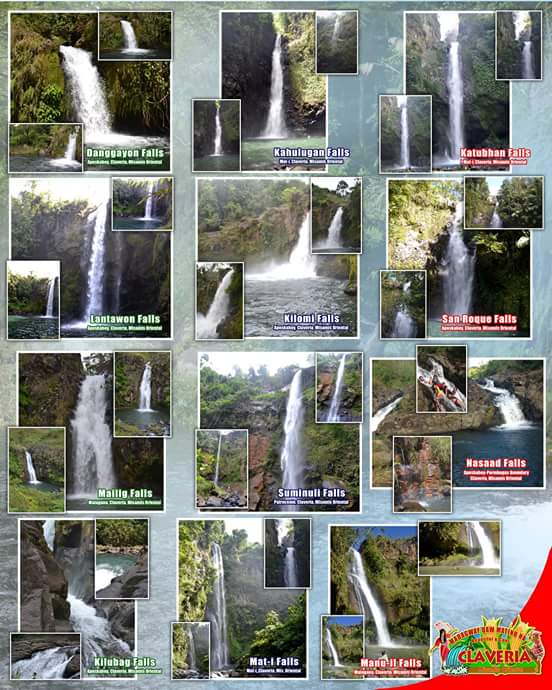 A paved road to the doorstep of a Waterfall is quite joyless for a nature lover. A true nature experience, often requires a hike; short or long and here in Claveria, you can still find that.
And here is a list of some of the Waterfalls, in Claveria. We don't have a detailed location description on all Falls, so we suggest you ask assistance in their respective Barangay.
You can also try to contact Claveria Tourism Office before going there.
Katangkawan Falls, Parmbugas, Claveria
Danggayon Falls, Aposkahoy, Claveria
Haruhay Falls, Aposkahoy, Claveria
Kiriwang Falls, Aposkahoy, Claveria
Lantawon Falls, Aposkahoy, Claveria
Kilomi Falls, Aposkahoy, Claveria
San Roque Falls, Aposkahoy, Claveria
Mailig Falls, Malagana, Claveria
Suminuli Falls, Patrocinio, Claveria
Nasaad Falls, Aposkahoy, Claveria
Kilubag Falls, Aposkahoy, Claveria
Kahulugan Falls, Mat-i , Claveria
Katubhan Falls, Mat-i, Claveria
Mat-i Falls, Mat-i, Claveria
Lumans Falls, Mat-I, Claveria
Mamato Falls, Minalwang, Claveria
Polinasan Falls, Minalwang, Claveria
Bindol Falls, Lanise, Claveria
Manu-il Falls, Malagana, Claveria
Sta Cruz Falls, Sta Cruz, Claveria
Ticala Falls, Poblacion, Claveria
Pangitaan Falls, Poblacion, Claveria
Hanggaron Falls, Ane-i, Claveria
Alaw Falls, Punong, Claveria
Anga Falls, Plaridel, Claveria
Save
Save
Save
Save
Save
Save
Save
Save
Save
Save
Save
Save
Save
Save
Save
Save
Save
Save
Save
Save
Save
Save
Save
Save
Save
Save
Save
Save
Save
Save
Save
Save
Save
Save
Save
Save
Save
Save
Save