The Golden Route (Intro)
The ferry to Cagayan de Oro City
Arriving in Cagayan de Oro City from Jagna or Balingoan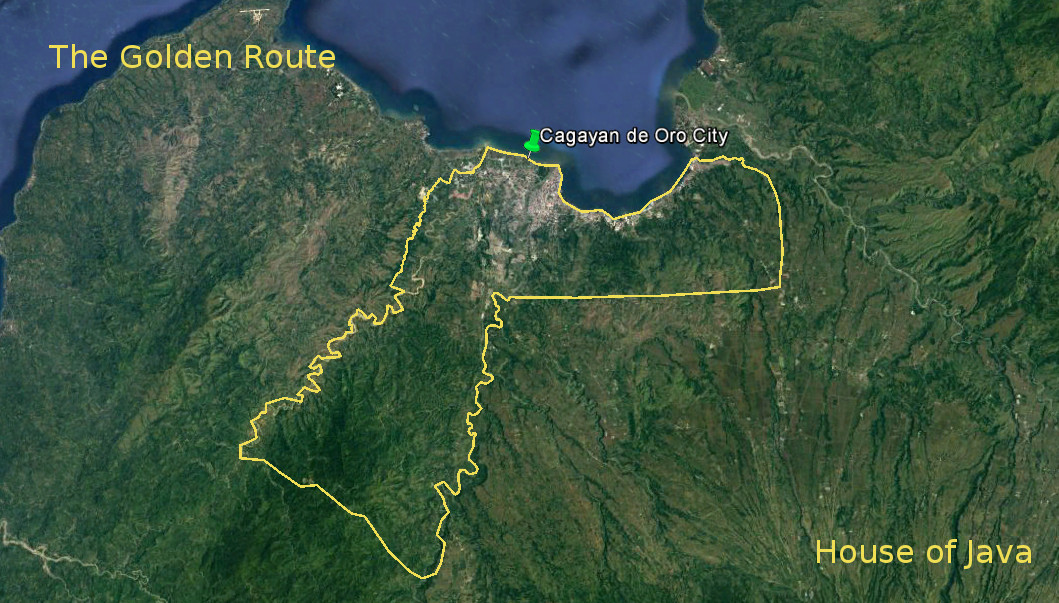 What to see in Cagayan de Oro City:
River Trekking (Agusan River), Agusan*
Guadalupe Shrine, Tablon
F.S. Catanico Falls, F. S. Catanico
Mapawa Nature Park, Cugman*
Migtugsok Falls, Cugman*
Puntol Falls, Cugman
Gardens of Malasag, Cugman
Alwana Sports Avenue, Cugman
Whitewater Rafting, CdO*
Gaston Park, Brgy 1
City Museum (Old Water Tower), Brgy. 1
Museum of Three Cultures, Brgy. 22
Museo de Oro, Brgy. 40


McArthur Landmark

, Macabalan
La Castilla Museum, Carmen
Go Kart Racing, Upper Carmen*
Skydiving, Patag*
The Stoneware Pottery, Bulua
NMPSA Shooting Range, Bulua
High Ridge, Macasandig
Guru Rock Climbing Gym, Macasandig
Laser Blast, Macasandig
Ultra Winds Mountain Resort, Indahag/Paulas*
Cabula River Resort, Lumbia
Kweba de Oro, Lumbia
Macahambus Cave and Gorge, Bayanga
Hanging Bridge, Mambuaya*
Monigue Cave, Mambuaya*
Sinulom Falls, Tignapoloan*
Use our Planning Menu, for your day-trip planning in the Province. You can find Links to all the Municipalities in Misamis Oriental and what to see in each place.
Save
Save