Rash Guard
A Rash Guard, is an athletic shirt made of spandex & nylon or polyester. A Rash Guard by itself is used for light coverage in extreme summer temperatures for several Water-Sports including White Water Rafting, River Trekking, Scuba Diving, Snorkeling, Free-diving, Wake-boarding, Windsurfing, Kite-surfing, Kayaking or Swimming.
Sandals
Hiking and trekking sandals are designed for hiking or trekking in hot and tropical climates, usually using robust rubber out-sole, suitable for any terrain, and softer EVA or Super EVA foam in-sole. These sandals are usually shaped to support the arched contour of the foot. The straps are usually made of polyester or nylon webbing for quick drying after exposure to acid and to minimize perspiration Also suitable for many other adventure sports and activities where quick drying and reduced perspiration is required, including White Water Rafting, Rappelling, Traveling, Paragliding, Skydiving.
Find other Sandals – Men / Women
Buff Head-wear (Bandana)
What is Buff Head-wear?
Buff® is the leading brand and creator of the first seam-free multi-functional tubular wear. It is an extremely versatile garment that can be worn in a number of different ways while offering protection from the elements during a wide range of outdoor activities like Hiking, Running, Rafting, Cycling, Motorcycling, etc. An excellent design, it is ideal as a casual wear accessory.
Why use Buff?
Buff head-wear helps keep its wearer comfortable, guarding against the cold, sun, wind or dust in rapidly changing outdoor situations. Think of it as a versatile base layer for your head. Buff provides the same performance benefits for your head that technical fabrics used in other outdoor clothing do for the rest of your body. And because it's so small and light, it's the ultimate throw-in-your-pocket garment for unexpected conditions. In addition, with many designs and colors, it's a great way to make a style statement.
How many ways can I wear it?
There are at least 12 different ways to wear Bandana or Buff head-wear. Some of the most popular uses include as a cap, scarf, balaclava,pirate style, Saharan, bandana, hairband, foulard, helmet liner, dust mask, etc.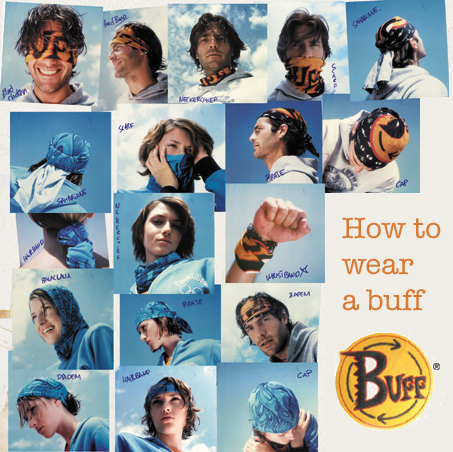 Find other Buff Head-wear/Bandana
Save
Save
Dry Bag
A dry bag is a type of flexible container which seals in a watertight manner. Dry bags are often used in River Trekking, Kayaking, White Water Rafting and other outdoor activities where sensitive items would otherwise get wet as well as extreme sports such as skiing and snowboarding. Dry bags are used to protect electronics from water. As well, they are used to prevent sleeping bags and spare clothing from getting wet, as in a camping context, wet sleeping bags or spare clothing could post a risk to a camper's safety, due to the poor insulative qualities of wet clothing or sleeping bags.
Find other Dry Bags
Wind Jacket (Rain Coat)
A Wind Jacket or a WindBreaker is a thin coat designed to resist wind chill and light rain, a lighter version of a jacket. It is usually of light construction, and these days characteristically made of some type of synthetic material.
On a windy ferry-trip to Camiguin or on a Zipline tour to Dahilayan Adventure Park in the mountain province of Bukidnon, you will appreciate bringing a jacket for wind/rain protection.
The products above are found in Lazada-Philippines
The North Face is another excellent shop for Outdoor Clothing, which can be found worldwide. You can find The North Face shop in SM CDO.
Some of the Best Travel Guide Books you will find at Lonely Planet.