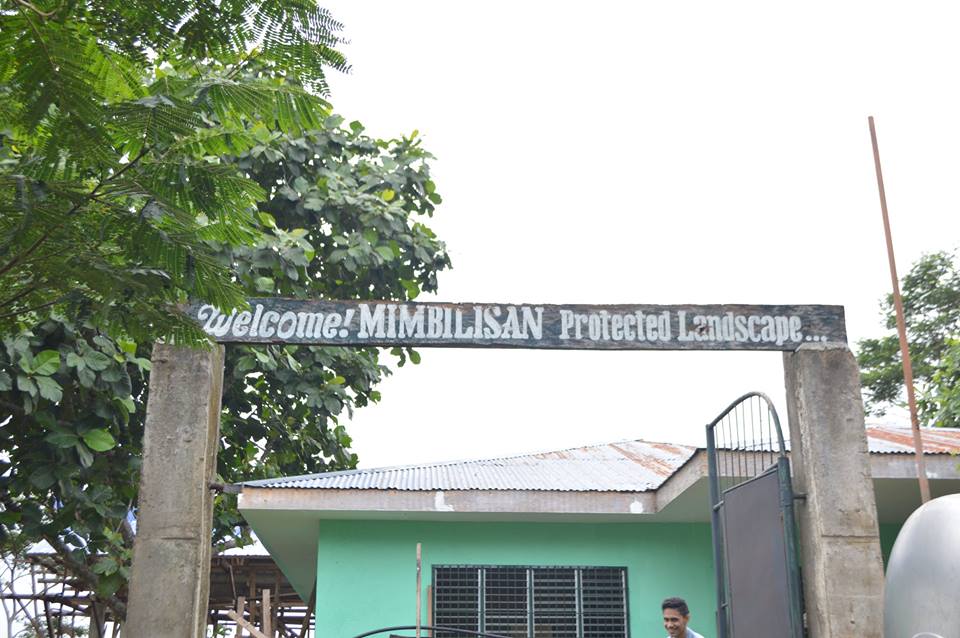 (Source)
Mimbilisan Falls is within the Mimbilisan Protected Landscape.
Mimbilisan Protected Landscape.
This protected area is located in Barangays Mapua & Bugdang in Balingoan and some portions in Talisayan, Misamis Oriental.
(N8.948884 E124.86517)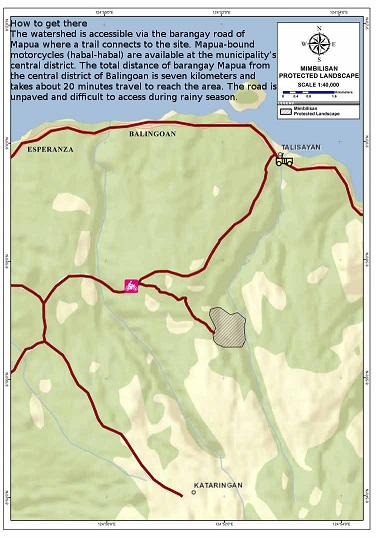 Covering 66.515 hectares the Mimbilisan Protected Landscape
is a critical watershed that provides valuable ecological services to its host municipalities and nearby communities.
Mimbilisan is characterized by rolling hills and low lying mountains, and is shaped like a gorge with Mindocdocan Creek at its base.
With a maximum elevation of 535 meters above sea level, the presence of extensive forests and water retentive aquifers on Mimbilisan allows it to function as a significant water reservoir.
Adjacent moderately steep slopes permit agricultural activity. Surrounding areas are thus planted with coconut, coffee, banana,
abaca, corn, cassava, and other root crops.
Forest and agricultural land contribute to critical watershed
The forests of Mimbilisan consist of dipterocarps, Moraceae species of shrubs and trees, vines and lianas, palms, and numerous
riparian or plant species that are specific to wetlands and banks of rivers and streams.
The deep penetrating roots of trees, such as the dipterocarps, regulate water inflow and discharges, and control floods and drought in the area. The diversity of the forest regulates and enhances climate stability in this and nearby localities.
Important flora and fauna found in Mimbilisan Protected Landscape include red lauan, tarictic hornbill, grass owl, rufous hornbill, large-billed crow, jungle fowl, Philippine long tailed macaque, Philippine cobra, monitor lizards, and river crabs.
Coconut trees dominate the agricultural areas. Grasses and low-lying shrubbery cover other patches of uncultivated land. Fast growing species of trees are sparsely planted in the area, usually as tree fences of households and boundaries of farmlots.
These species include gmelina, bagras, falcata, and mahogany.
High ecotourism potential
Realizing the ecotourism potential of the Mimbilisan Protected Landscape, funds from the national government have been requested for the construction of various ecotourism structures. A Visitor Center has been established while plans for other infrastructure, such as a Protected Area Office, resting area for staff and visitors, and others, are being developed.
Various activities have been undertaken to further strengthen the protected area's functions as a critical watershed and site for ecotourism and other recreational activities. These projects include an Upland Development Program that developed 10 hectares in 2010. From 2011-2012, 40 hectares were planted with narra, red and white lauan, and molave under the National Greening Program.
Activities that may be introduced through a well thought ecotourism plan include hiking through the forest; nature and biodiversity appreciation through plant walks; environmental education tours that highlight the importance of the site as a critical
watershed; and nature photography. Birdwatching can also be developed as the Mimbilisan Protected Landscape serves as a feeding and nesting station of migratory birds. (Source)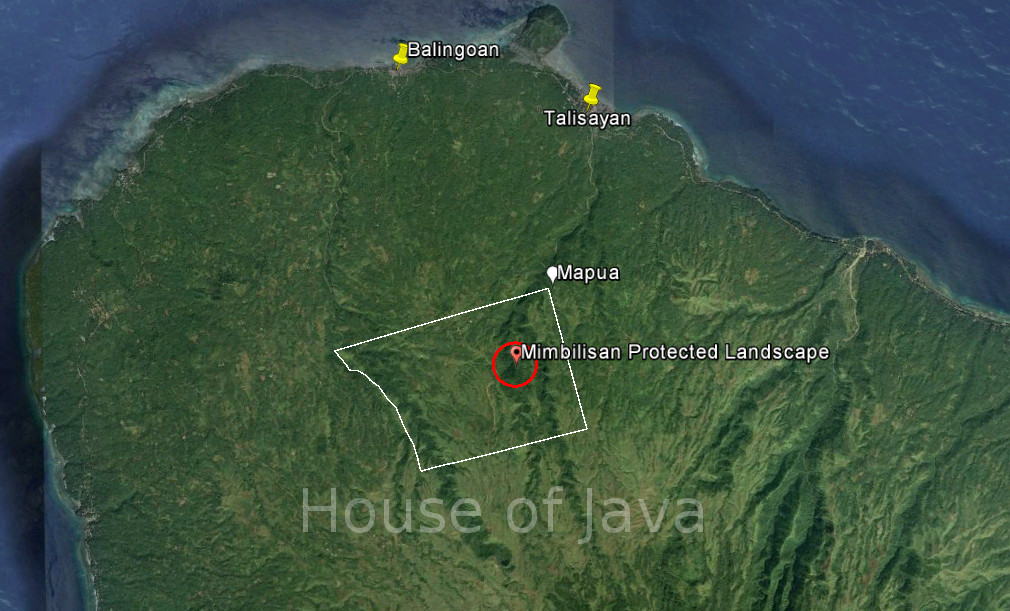 | | |
| --- | --- |
| Website: | no website found |
| Facebook: | no page found |
| Email: | no email found |
| Landline: | no number found |
| | |
| Mobile: | no number found |
| | |
| Municipal: | Balingoan |
| Barangay: | Mapua |
| Address: | no street address found |
| Google Map: | Mimbilisan Falls |
| | |
| | |
Save
Save