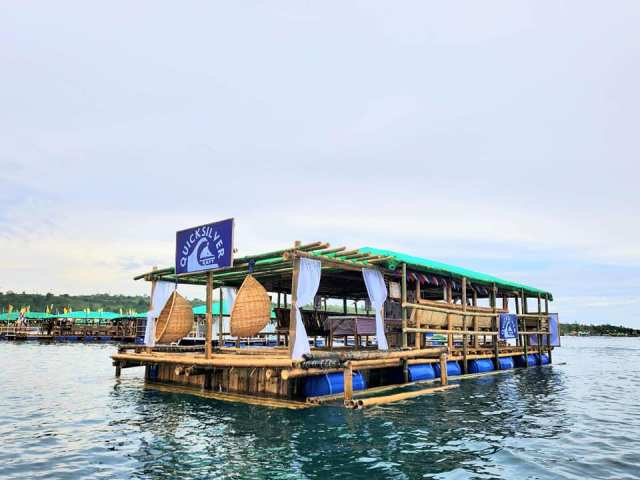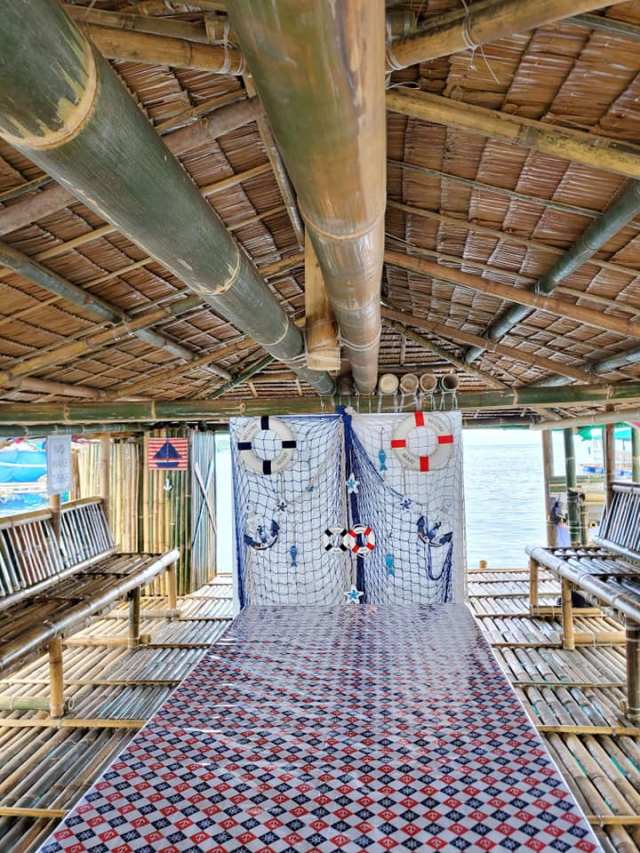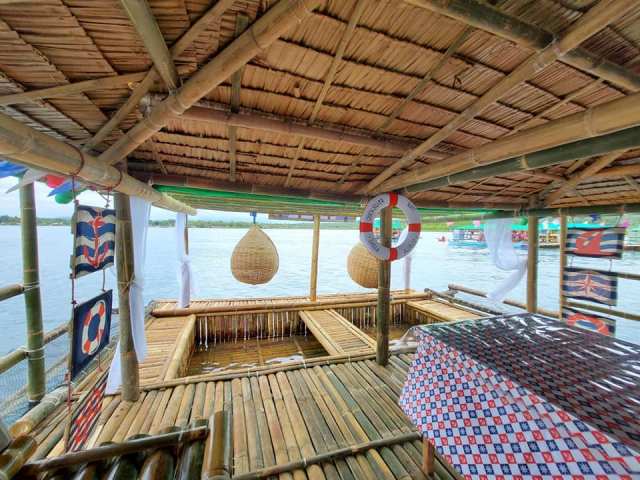 [Source]
A balsa or floating cottage can accommodate up to 30 persons. Most balsa is equipped with tables and benches, a cooking/grilling area, a changing area, and a mini pool. Obviously, there is no restroom on board, so … 
All guests will be given life vests, and if you're wondering about the food & drinks corkages, there is none.
All guests will be responsible for keeping their trash. Transparent trash bags will be given upon entry at the port, with some asking for a garbage deposit around PHP150. To claim back the deposit, guests have to bring the trash bag back to the port for proper disposal.
Rent fees range from PHP2,000 to PHP3,500, depending on the size and the owner of the balsa, as well as the available time slot.
Rent a stand-up paddleboard for PHP200 per hour, or kayak for PHP250 per hour.
Book ahead. Walk-ins are highly discouraged. [Source]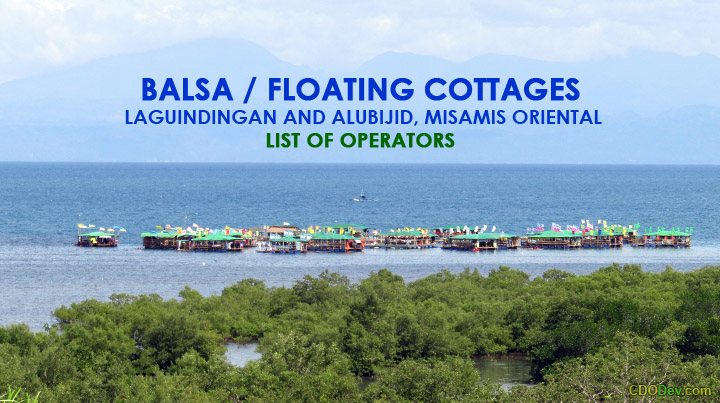 Note that operators usually require reservation fee (range from P1,000-P1,500), environmental fee (P15) and entrance fee (P10). The balsa rates range from P2,200 to P4,500 depending on size and this includes boat ride to the cottage and back to the shore. Rates are usually higher on weekends.
DOCKING AREA – see below boat docking / loading area for balsa operators
Baybay Mangrove Eco Park – Alubijid balsa operators
Bukara, Moog, Laguindingan – Moog, Laguindingan balsa operators
Tubajon, Laguindingan – Tubajon, Laguindingan balsa operators
Mauswagon, Laguindingan – Mauswagon, Laguindingan balsa operators
PARKING AREA – balsa operators have their own designated parking areas. Vehicles can drop off guests and their things at the docking area then proceed to the parking area. 
[For FB info & pictures from operators, see cdodev]
4 ANGELS DE BALSA (0949-324-2102, 0977-339-3821) – Baybay, Alubijid
A&J FLOATING COTTAGE (0997-266-2520) – Moog, Laguindingan
A&N FLOATING CABANA (0965-559-5047, 0906-930-5603) – Moog, Laguindingan
AMARE LA BALSA (0955-410-1611) – Baybay, Alubijid
ANN'S PARADISE (0935-252-1837) – Baybay, Alubijid
ARCEL'S FLOATING COTTAGE (0955-526-0543) – Baybay, Alubijid [SOON]
BALAY SA BALSA BY QSR (0917-774-5579) – Baybay, Alubijid
BALSA ALUBIJID (0997-608-2292) – Baybay, Alubijid
BALSA AMELIA (0917-640-0247) – Moog, Laguindingan
BALSA BLANCA (0926-889-4197) – Tubajon, Laguindingan
BALSA BLUE REEF (0926-852-8235) – Moog, Laguindingan
BALSA BONITA (0997-749-2091, 0917-322-2359) – Moog, Laguindingan
BALSA BRIANA (0905-653-2110) – Baybay, Alubijid
BALSA BRISA DEL MAR (0906-879-7699, 0997-811-1381, 0919-004-8509) – Baybay, Alubijid
BALSA CABANA (0917-700-4301) – Moog, Laguindingan
BALSA CABANA CASA DEL PARAISO (0915-687-8762, 0935-272-4059) – Moog, Laguindingan
BALSA CAPTAIN RAY REY – Baybay, Alubijid [SOON]
BALSA CAT DEL RIO (0906-164-2816) – Baybay, Alubijid
BALSA DE AGUA (0967-872-3919) – Baybay, Alubijid
BALSA DE BAY (0975-915-0989) – Baybay, Alubijid
BALSA DE BERDE (0965-056-2405) – Baybay, Alubijid
BALSA DE FRANCIA (0935-916-3895, 0906-794-0619) – Moog, Laguindingan
BALSA DE LANDA (0948-751-1382, 0935-658-0961) – Tubajon, Laguindingan
BALSA DE RAMPOLLO (0926-990-4934, 0926-556-5267) – Tubajon, Laguindingan
BALSA DE SAN JOSE (0917-182-3092) – Baybay, Alubijid
BALSA DE YASSY (0997-608-2292, 0935-142-5801) – Baybay, Alubijid
BALSA DEL MAR (0955-047-1422) – Baybay, Alubijid
BALSA DEL MAR II (0906-911-2197) – Baybay, Alubijid
BALSA DEL RETRO (0965-611-7960, 0938-178-9210) – Baybay, Alubijid
BALSA EL KIY JEY (0997-674-3331) – Mauswagon, Laguindingan
BALSA EXPLORE (0997-127-2500) – Baybay, Alubijid
BALSA FAR SEA SANTORINI (0968-852-3165) – Mauswagon, Laguindingan
BALSA FUNTASEA (0926-887-9961) – Baybay, Alubijid
BALSA HAKUNA MATATA (0955-0866-459) – Baybay, Alubijid
BALSA HIGALA (0917-639-5233) – Baybay, Alubijid
BALSA ISABELLA (0997-256-1039, 0955-881-0650) – Tubajon, Laguindingan
BALSA KASANDRA ZIELXYRIEL (0955-419-8270) – Baybay, Alubijid
BALSA MARINA (0905-950-2927, 0997-198-9873) – Baybay, Alubijid
BALSA NI BADANG (0905-953-3267, 0917-118-9775) – Baybay, Alubijid
BALSA NI BANDAY (0977-806-6980) – Baybay, Alubijid
BALSA NI EBANG (0917-318-9924) – Moog, Laguindingan
BALSA NI GUIA (0977-806-6980) – Baybay, Alubijid
BALSA NI GWAPA MAMITA (0997-875-4787) – Baybay, Alubijid
BALSA NI ISAY (0997-608-2292) – Baybay, Alubijid
BALSA NI JOBOY (0936-841-6740) – Moog, Laguindingan
BALSA NI KUYA (0935-761-2189, 0912-9295645) – Moog, Laguindingan
BALSA NI MARTHA (0905-035-9398) – Tubajon, Laguindingan
BALSA NI PAREKOY (0975-143-9695, 0926-798-9231, 0906-796-9515) – Baybay, Alubijid
BALSA NI SAN MIGUEL (0926-160-2533, 0955-136-5680) – Mauswagon, Laguindingan
BALSA NI SAN RAPHAEL (0926-160-2533) – Mauswagon, Laguindingan
BALSA NI SEARGEANT JB PRINCE | PRINCESS OF THE SEA – Baybay, Alubijid
BALSA NI SHALLY (0955-047-1422, 0998-940-8177) – Baybay, Alubijid
BALSA NI SRA. STA. LUCIA (0905-553-6476) – Baybay, Alubijid
BALSA NIÑO DE PALABOY (0906-673-3249) – Moog, Laguindingan
BALSA OCEAN SPRAY (0966-937-4842) – Moog, Laguindingan
BALSA OCEANICA (0917-773-2738) – Moog, Laguindingan
BALSA OKAY KAAYO (0935-693-3035, 0935-504-9963) – Baybay, Alubijid
BALSA OMIC-10 (0997-886-2660) – Baybay, Alubijid
BALSA PEARL OF THE SEA (0906-165-1810) – Baybay, Alubijid
BALSA PEGASUS (0977-219-0249, 0926-977-4062) – Moog, Laguindingan
BALSA POLARIS (0967-870-8989) – Moog, Laguindingan
BALSA POSEIDON (0955-054-8715) – Moog, Laguindingan
BALSA PRINSESA (0956-165-5300, 0963-951-9644) – Moog, Laguindingan
BALSA PROSPERITY (0916-700-6126, 0956-136-4232) – Baybay, Alubijid
BALSA REINA (0956-087-8671) – Baybay, Alubijid
BALSA ROYAL ARK (0977-804-3672, 0997-216-4200, 0926-771-5003) – Baybay, Alubijid
BALSA SA BIRHEN DE LOS REMEDIOS (0945-380-7600) – Moog, Laguindingan
BALSA SA BOARDWALK (0953-696-6028, 0975-190-8091) – Baybay, Alubijid
BALSA SA FRANCIA (0935-916-3895, 0906-794-0619) – Moog, Laguindingan
BALSA SA LAGUINDINGAN (0955-526-0542) – Moog, Laguindingan
BALSA SA MAUSWAGON (0906-910-6717) – Mauswagon, Laguindingan
BALSA SEARENA (0926-966-2188) – Moog, Laguindingan
BALSA SEARENITY (0995-712-7458) – Moog, Laguindingan
BALSA SPLASH DE FLORENSAS (0906-534-0533, 0916-822-5863) – Baybay, Alubijid
BALSA STELLA MARIS (0906-150-9809) – Baybay, Alubijid
BALSA TRITON (0997-416-0833) – Moog, Laguindingan
BALSA UKIYO (0916-861-0818) – Baybay, Alubijid
BALSA VHANSWA (0917-248-3735) – Moog, Laguindingan
BAMBOO BALSA FLOATING COTTAGE (0955-055-0210) – Baybay, Alubijid
BLU J FLOATING RESORT (0916-380-0505, 0956-063-4896) – Baybay, Alubijid
BLUE REEF BALSA (0926-852-8235) – Moog, Laguindingan
BUENA KEIJA DE BALSA (0953-396-6028, 0965-971-7267) – Baybay, Alubijid
CABANA AL BAHAR D' FLOATING BALSA (0961-585-4214) – Moog, Laguindingan
CABANA CASA DEL PARAISO (0935-272-4049) – Moog, Laguindingan
CABANA GE NOCHE (0917-770-5994, 0975-468-9021) – Moog, Laguindingan
CAPTAIN RAY REY FLOATING COTTAGE (0926-887-9953) – Baybay, Alubijid
CARROZA DE QUADRO (0917-130-1014) – Moog, Laguindingan
CHRISTINE'S FLOATING COTTAGE (0995-573-7368) – Moog, Laguindingan
D'BLACK PEARL (0906-911-1904) – Baybay, Alubijid
DON ATÚ FLOATING COTTAGE (0967-773-6519, 0905-726-3639) – Molocboloc, Alubijid
DONSALS BALSA (0917-727-8875, 0935-034-6851) – Moog, Laguindingan
DONSALS FERRY BOAT (0917-727-8875, 0935-034-6851) – Moog, Laguindingan
D'SAIGON BALSA (0997-127-2500, 0997-205-4134) – Baybay, Alubijid
FIEL FLOATING CABANA (0936-952-8787) – Moog, Laguindingan
FLOATING ANGEL (946-107-9498) – Tubajon, Laguindingan
FLOATING BALSA ALODIA (0917-703-2338) – Baybay, Alubijid
FLOATING SHADOW (0928-322-0351) – Tubajon, Laguindingan
FLOATING YEONA (0936-605-6712) – Tubajon, Laguindingan
GOLDEN DRAGON BALSA (0906-165-1812) – Baybay, Alubijid
GLORIOUS FLOATING BALSA (0997-064-4913) – Molocboloc, Alubijid
HAUSBOOT KURT (0977-856-3092) – Baybay, Alubijid
HAVANNA BALSA (0965-660-4421) – Tubajon, Laguindingan
HM BAMBOORAFT (0926-113-0796, 0936-037-5809) – Moog, Laguindingan
IMMACULATE CONCEPTION FLOATING COTTAGE (0917-777-0344) – Baybay, Alubijid
JC SASAN FLOATING COTTAGE (0936-482-2407, 0953-696-6028) – Baybay, Alubijid
KABZ BALSA (0968-209-9835, 0995-526-5274) – Baybay, Alubijid
KARLKERR BALSA OCEANICA (0917-773-2738) – Moog, Laguindingan
KAYAK SA BALSA (0977-823-5570, 0915-589-1044) – Baybay, Alubijid (Kayak rentals)
L AND M FLOATING BALSA (0915-314-7962) – Tubajon, Laguindingan
LA CABANA DE CLAUDIA I (0975-480-9644) – Moog, Laguindingan
LA CABANA DE CLAUDIA II (0975-480-9644) – Moog, Laguindingan
LITTLE MEN'S BALSA FLOATING COTTAGE (0916-170-5438) – Baybay, Alubijid
LUCKY ONE BALSA (0966-942-1020) – Tubajon, Laguindingan
MCSQUARED ASTHERIELLE BALSA (0916-841-3294, 0905-112-2043, 0965-927-2355) – Baybay, Alubijid
MERSAN'S FLOATING COTTAGES (0936-605-6712) – Tubajon, Laguindingan
MHAYA'S PLACE (0975-015-9951, 0945-310-1072) – Baybay, Alubijid
MIGAR FLOATING BALSA (0965-169-4996) – Moog, Laguindingan
MOFA DE BALSA (0926-895-9549) – Baybay, Alubijid
MV BALSA FLOATING COTTAGE MOOG (0936-394-7329) – Moog, Laguindingan
OASIS RAFTS (0956-136-4232) – Baybay, Alubijid
OHANA KAYAK (0968-854-2105) – Tubajon, Laguindingan
OMICTIN FLOATING RAFT (0975-045-9312, 0905-164-7230) – Moog, Laguindingan
OUR LADY OF GUADALUPE FLOATING COTTAGE (0936-276-6858, 0926-221-3259) – Baybay, Alubijid
PRINCE PRNCESS OF THE SEA (0955-886-8326) – Baybay, Alubijid
QUICKSILVER RAFT (0905-601-1587) – Baybay, Alubijid
SEA KING & QUEEN ADVENTURES (0967-218-3751) – Moog, Laguindingan
SEA SQUAD BALSA (0966-704-3369, 0926-863-2179) – Moog, Laguindingan
SEA ZAHRAH FLOATING BALSA (0906-150-9862) – Moog, Laguindingan
STAR OF THE SEA CHALET (0963-951-9644, 0953-265-5542) – Moog, Laguindingan
STO. NINO FLOATING COTTAGE (0916-129-5425) – Moog, Laguindingan
SYMON'S CABAÑA DE MAR (0907-343-8449), 0997-674-3331) – Mauswagon, Laguindingan
TEAM ARPAC BALSA (0936-452-7015) – Moog, Laguindingan
TEAM BAGITO BALSA CABANA (0917-720-5011) – Moog, Laguindingan
TRIXIE JOY FLOATING COTTAGE (0997-608-2292) – Baybay, Alubijid
VALSA TIMUS DE AGALON (0975-9177920, 0997-889-6866) – Baybay, Alubijid
WAIKIKI BAMBOO RAFTS (0917-774-5579) – Baybay, Alubijid
YUAN'S FLOATING COTTAGE (0975 469 0014)- Baybay, Alubijid
ZACK GUIBS FLOATING COTTAGE (0956 337 2008) – Tubajon, Laguindingan
[Source]
Website:
no website found
Facebook:
see cdodev
Email:
no email found
Landline:
no number found
Mobile:
See list above
Municipal:
Laguindingan/Alubijid
Barangay:
Moog (Lag.)
Baybay (Alu.)
Address:
Google Map:
Balsa / Floating Cottages