AMAYA VIEW
is the newest sky destination located at the highest peak of Cagayan de Oro. Although still under construction, Amaya View (formerly Sierra del Oro) first opened its doors with Hugo Skye Lounge as its first attraction to welcome and cater to guests who would like to escape from the hustle and bustle of the city to take a breath of fresh air while reveling in the spectacular view of Cagayan de Oro.
A mere 20 minute drive from downtown, guests are treated to a full view of the city, while having the pleasure and convenience of leisure spots, recreational activities and restaurants.
HUGO Skye Lounge, a restaurant and bar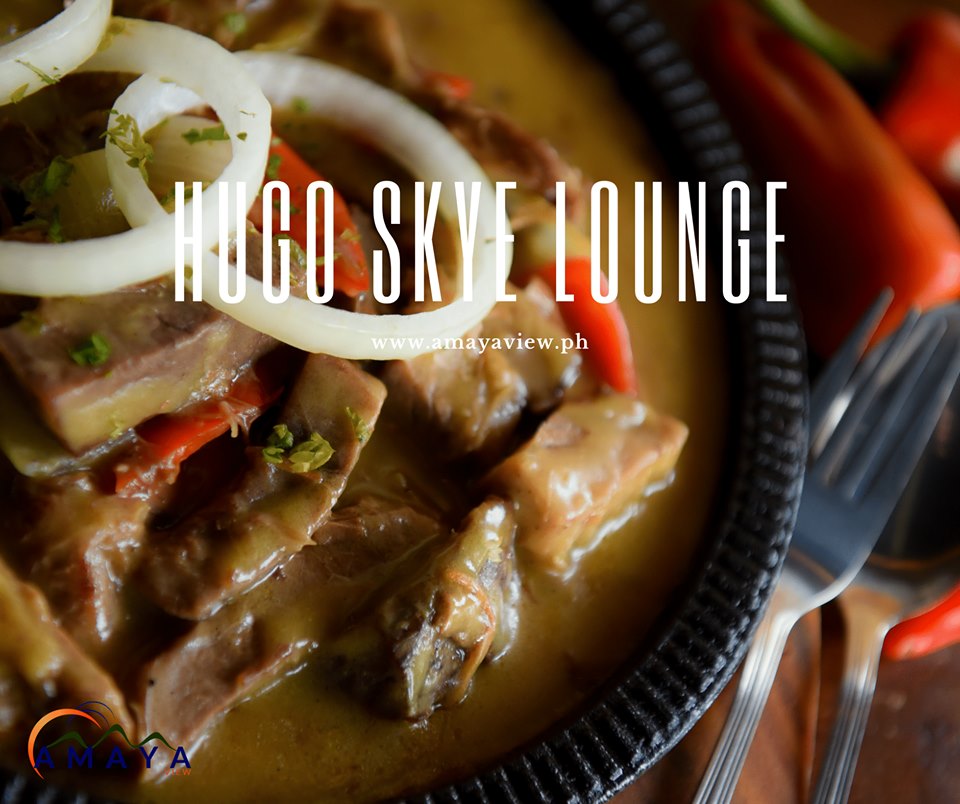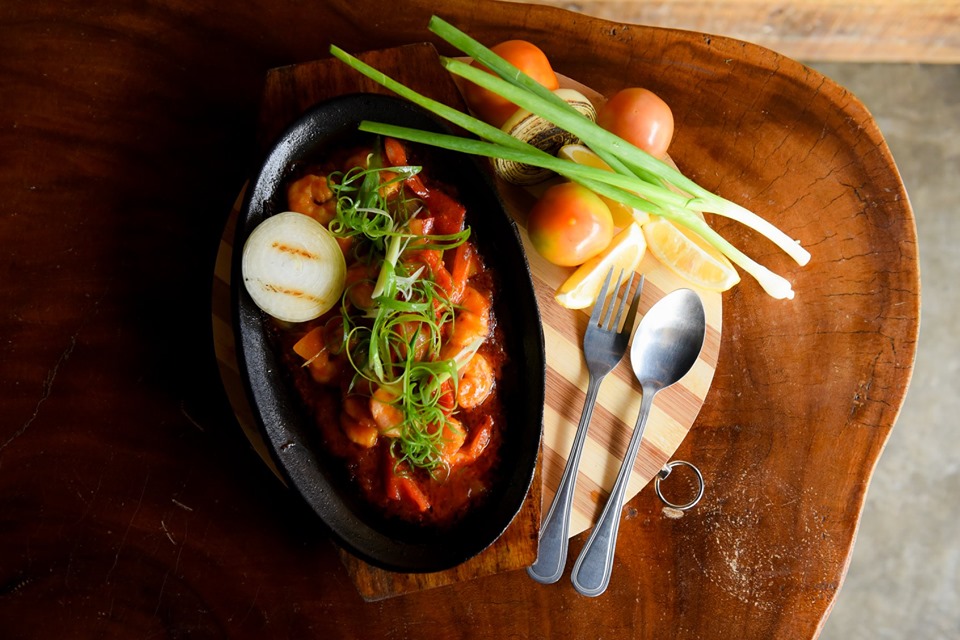 Amaya View's iconic bar and restaurant takes pride in its delicious food, extensive bar list, and great service.
Resto Bar Operating Hours:
MON – SAT 5 PM – 1 AM
SUNDAYS, Holidays 11 AM – 2 PM & 4 PM – 12 MN
SUTU Skye Dining, a traditional Filipino Restaurant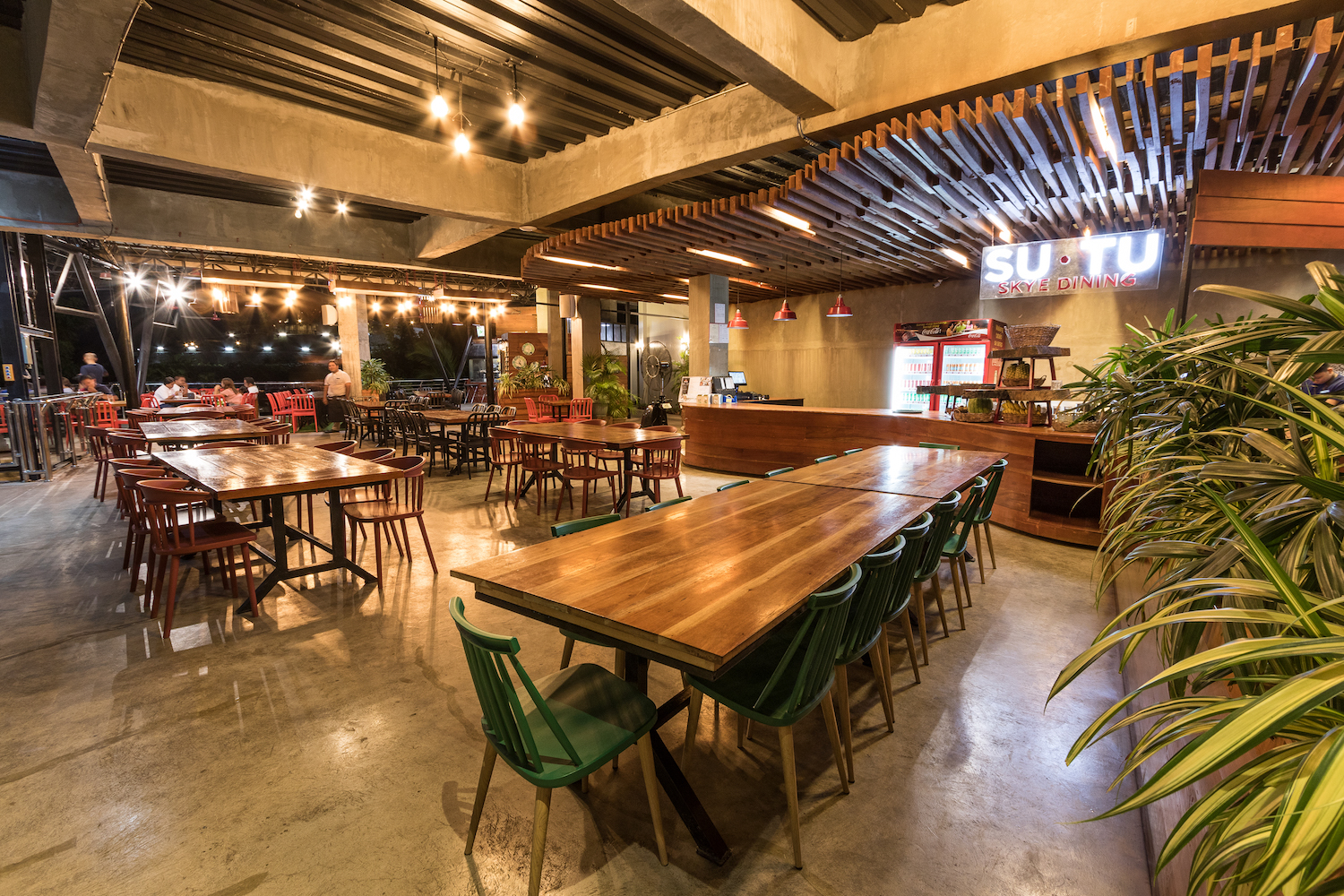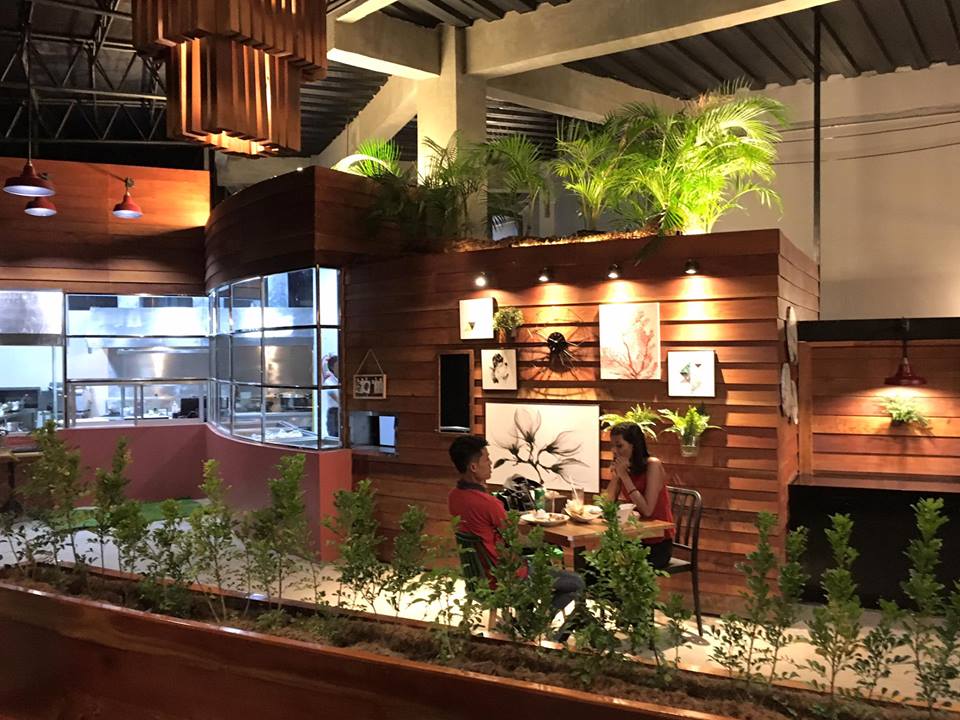 Amaya View's traditional Filipino restaurant, Sutu pays homage to authentic Visayan cuisine.
Operating Hours & Rates
MON – FRI 11 AM – 2 PM & 5 PM – 10 PM
SAT – SUN, Holidays 10:30 AM – 2:30 PM
5 PM – 10 AM
AMAYA Cafe, a coffee shop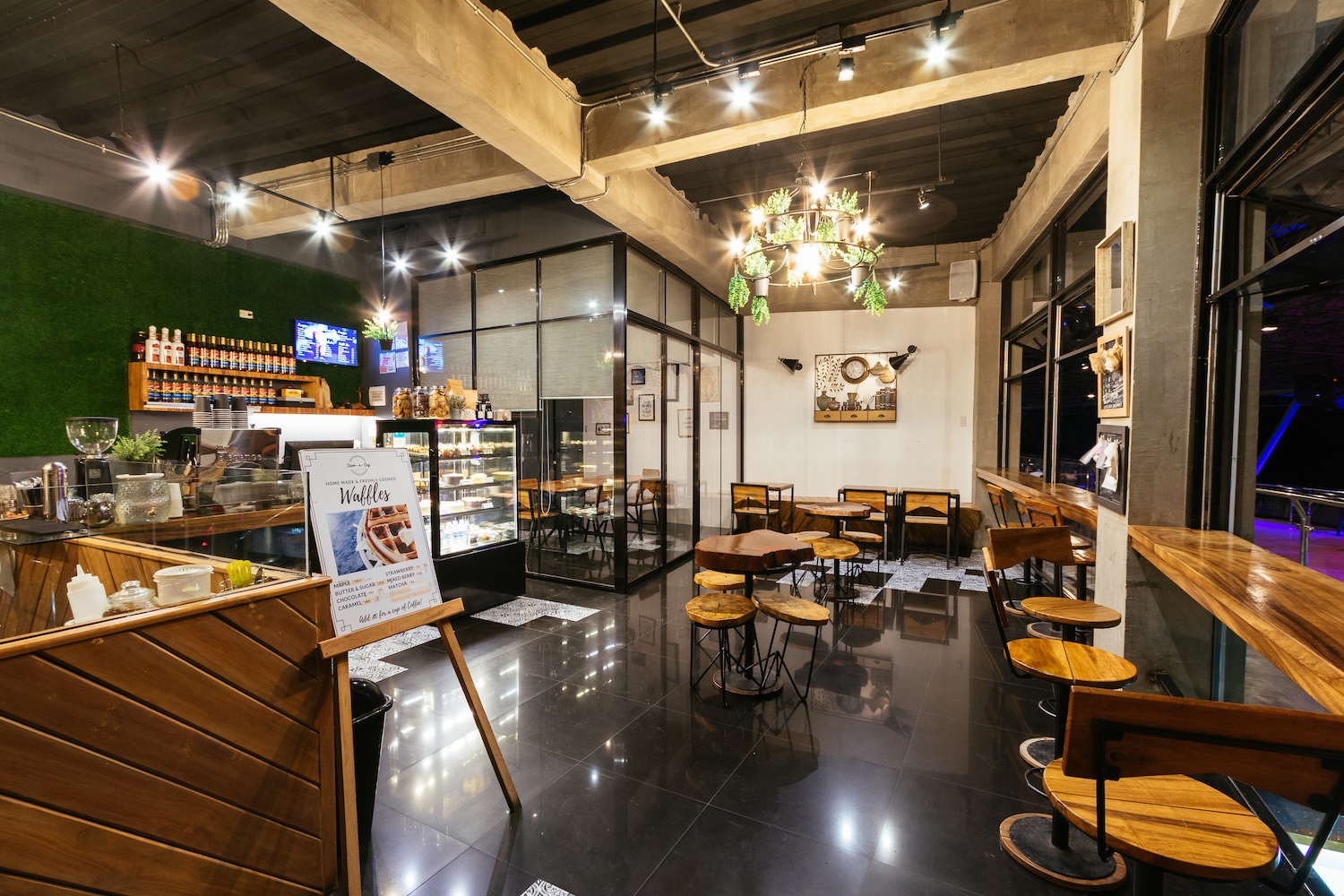 Amaya View's coffee shop that lets you enjoy a cup of freshly brewed coffee and a slice of cake.
Operating Hours & Rates
MON – SUNDAY 7 AM – 11 PM (Menu Available Upon Request)
Larry's Corner, a snack bar
Amaya View's snack bar has a menu made especially for kids, and of course, those kids-at-heart.
PARAGLIDING, first in Cagayan de Oro that gives all a chance to fly!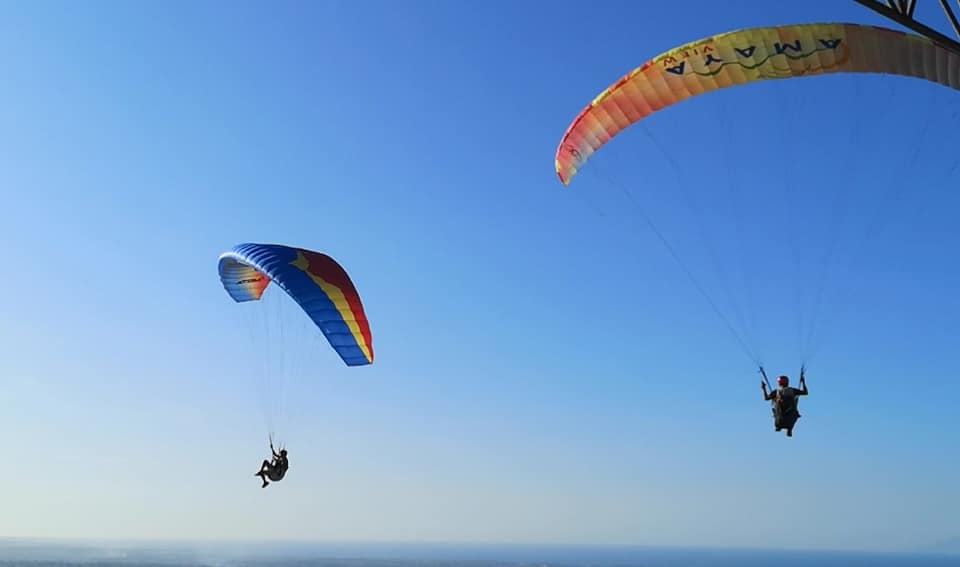 For the best paragliding experience, we advice that our dear guests book between 10 o'clock in the morning to 4 o'clock in the afternon.

Booking are not guaranteed and we encourage walk-ins only due to the fact that paragliding is weather-dependent.

This is to ensure the safety of our guests.
LARRY'S HILL, a playground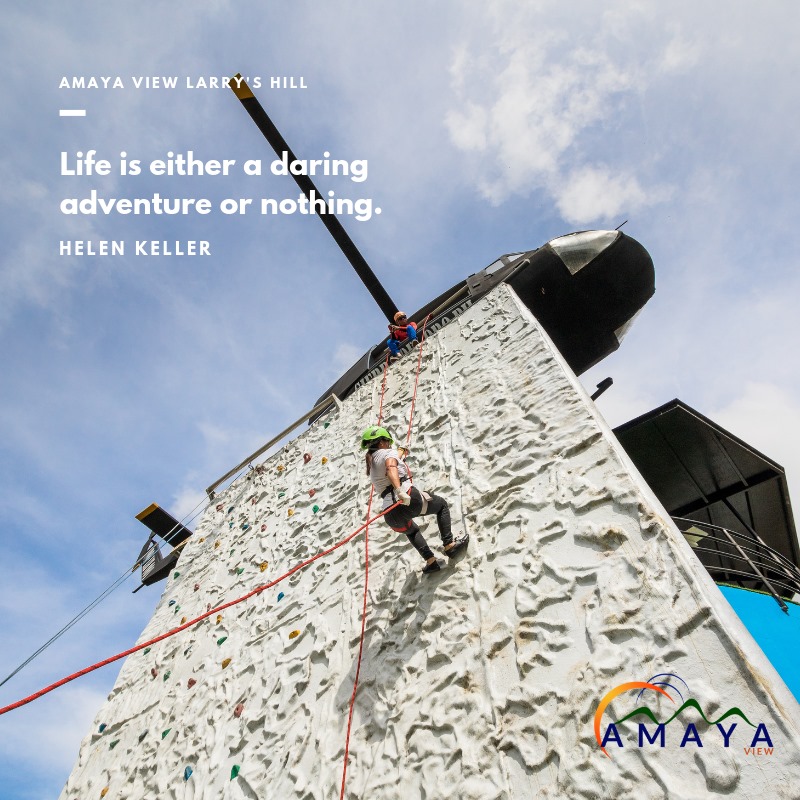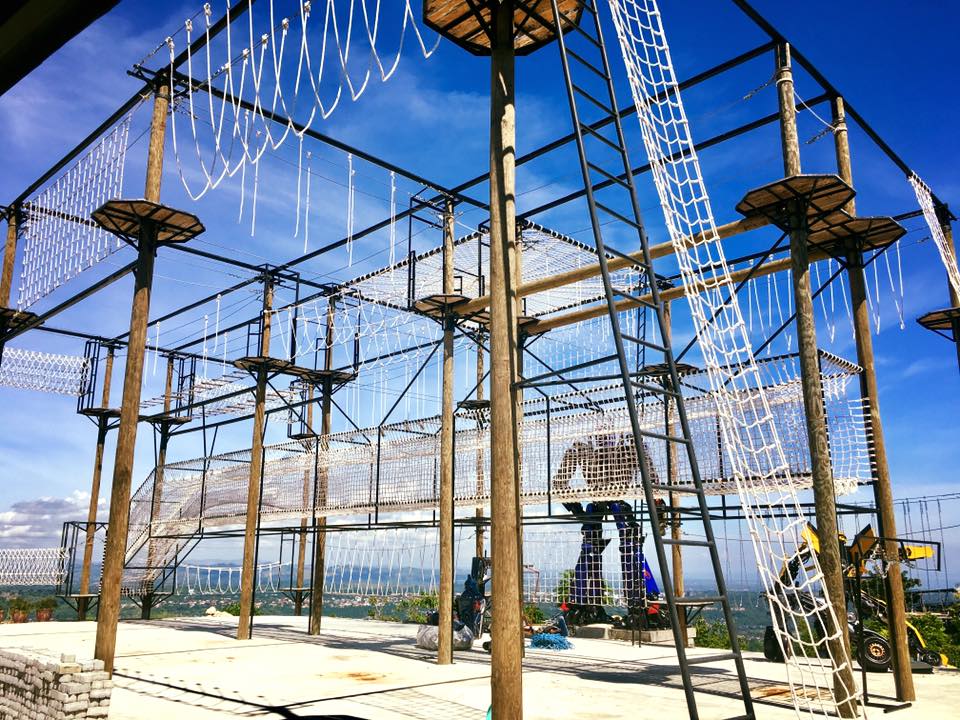 A playground in the Skye that includes activities for all. Imagine the thrill of climbing up a high rope course and jumping from a man-made helicopter! Kids and adults can also enjoy the largest and the only outdoor ball pit in the Philippines! Larry's Hill also offers team-building activities and outdoor camping.
Operating Hours & Rates
MON – THURS 9 AM – 8 PM (Activity Rates Available Upon Request)
FRI – SUN, Holidays 8 AM – 10 PM
| | |
| --- | --- |
| Larry's Hill Activities | Rate/Pax |
| High Ropes | 250 |
| Low Ropes | 150 |
| Ball Pit | 100 |
| Zip Line | 150 |
| Basic Rappelling | 200 |
| Wall Climbing | 150 |
| Leap Jump and Maze Tower | 150 |
| Basic First Aid | 150 |
| All Terrain Vehicle ( ATV ) | |
| Big | 450 |
| Small | 350 |
THE ROCK CHAPEL, a glass chapel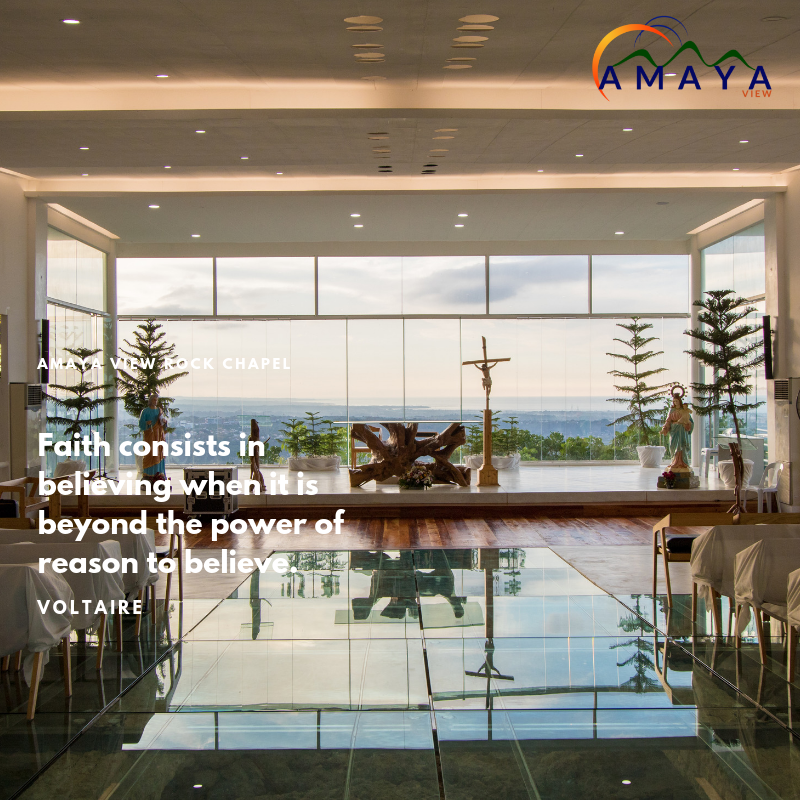 Take in the beauty of nature and the solemnity of the Eucharist through its crystal-clear panes. No shoes are allowed inside the glass floor chapel. Masses are held Sunday mornings at 10 am. The Rock Chapel is also open for weddings and special occasions.
Amaya View Azul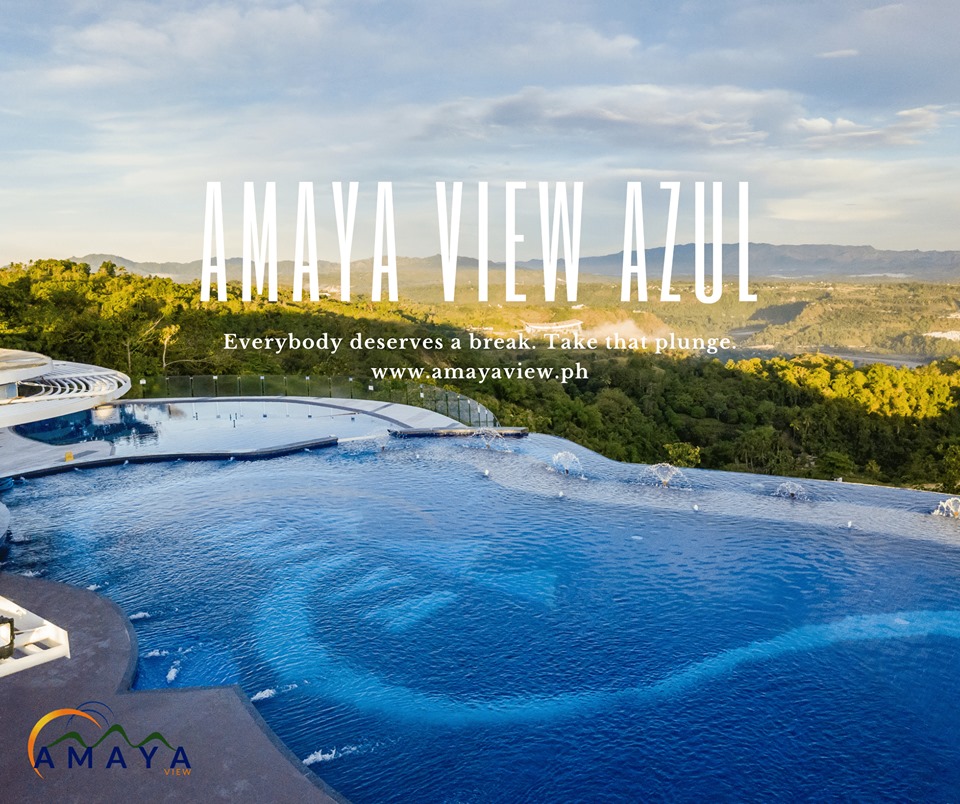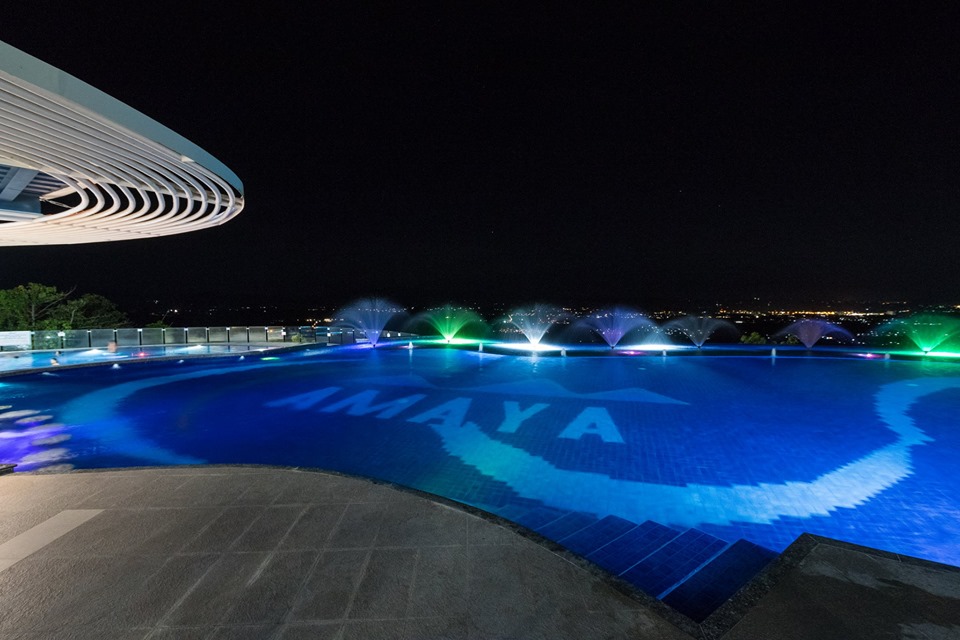 Amaya View's pride is this lifestyle infinity pool.
Pool Operating Hours & Rates
MON – THURS 7 AM – 11 PM ​
ADULTS P 350 ​/ KIDS P 200

FRI – SUN, Holidays 6 AM – 12 MN
ADULTS P 400 / KIDS P 300
Bistro Operating Hours
MON – THURS 7 AM – 9 PM ​
FRI – SUN Holidays 6 AM – 9 PM (Bar 10 PM) ​
Walk-ins allowed
Noah's Ark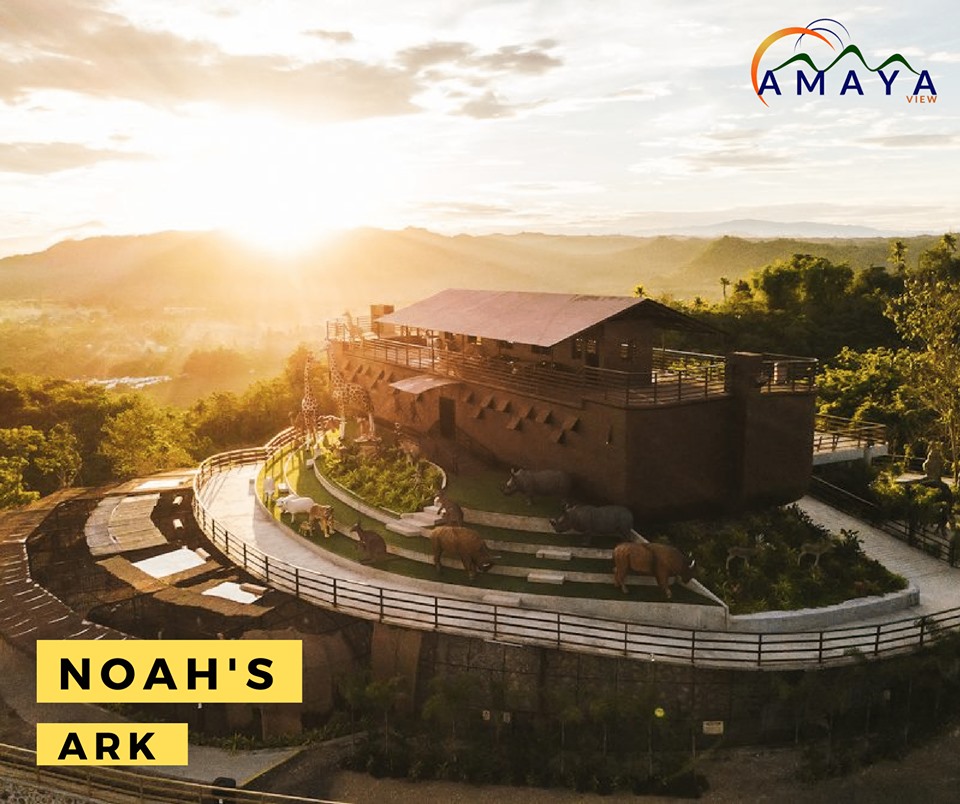 Noah's Ark is based on the iconic biblical ark where pairs of animals were assembled inside by Noah to be saved from the Great Flood.
Operating Hours & Rates
MON – THURS 9 AM – 8 PM (CUT OFF 6 PM) KIDS P 50/ADULTS P 80
FRI – SUN, Holidays 8 AM – 8 PM
Hobbit Houses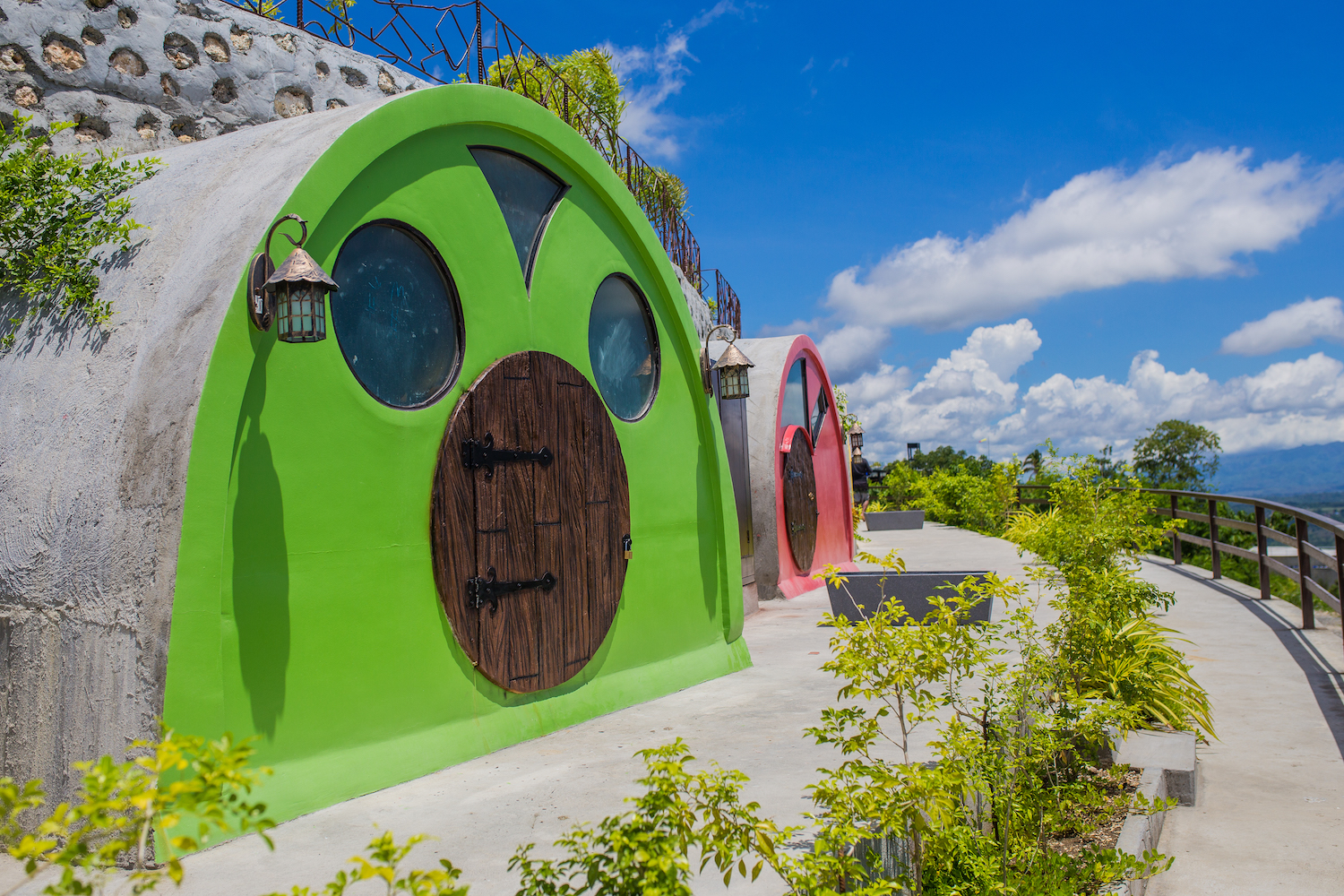 Based on the quaint, picturesque houses of the famous hobbits from JRR Tolkien's The Lord of the Rings!
These twelve (12) 15-sqm air-conditioned camping style rooms are already built with necessities for an overnight stay, all furnished with a large bed, and toilet & bath.
Good for 3 pax, Camping type bed, with bathrooms.
Operating Hours & Rates
Daily
CHECK – IN (2 PM)
CHECK – OUT (12 NN)
P 2,450.00 / NIGHT
AMAYA Functions, a 900 sqm air-conditioned function room.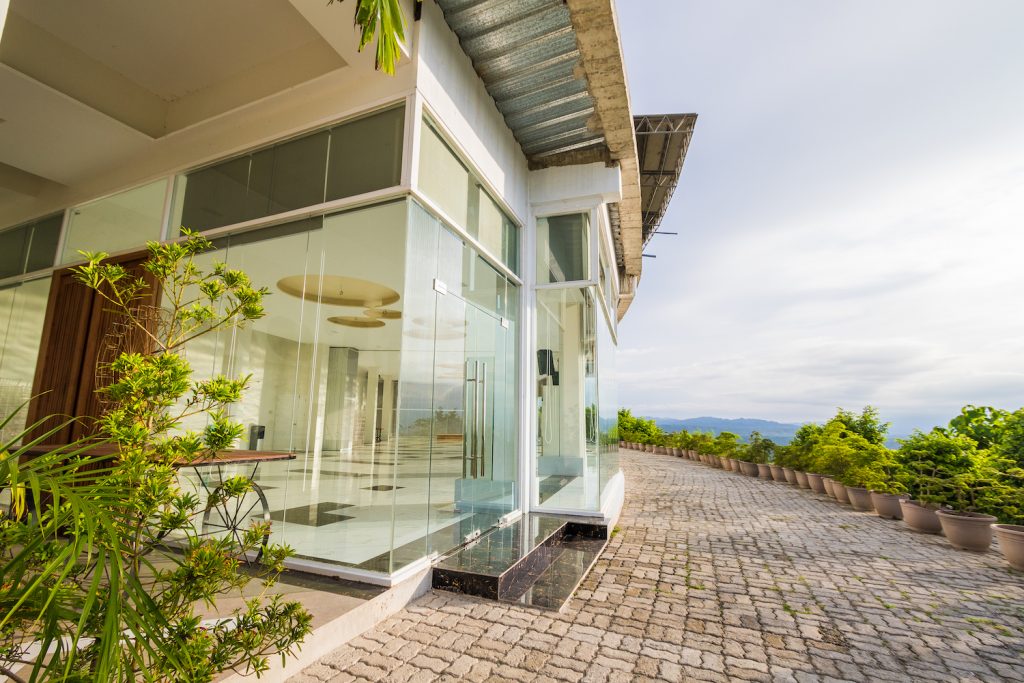 A 900-sqm air-conditioned function room that can cater up to four hundred (400) guests.
Other attractions coming soon: Hotel Rooms and Villas, Koi Pond, Aviary etc.
Cab service is available to bring you up to Indahag for an estimated regular fee of 250-300 pesos from downtown.
Shuttles are also available at Gaisano Mall Parking Lot via Donsal Transport, rates will be based on Donsal
Website:
Amaya View
Facebook:
Amaya View
Email:
amayaviewcdo.ph@gmail.com
Landline:
no number find
Mobile:
+63 917 146 3941
City/Municipal:
Cagayan de Oro
Barangay:
Indahag
Address:
Sitio Sto. Nino, Indahag Hills,
Google Map:
Amaya View
Motorcycle Taxi - Angkas
... from House of Java
(Price 2019)

P126,-/one way
(1 passenger only)